Picture this: it's a beautiful summer day, and you're ready to tackle your lawn care chores. Heck, you plan to delight in them. The only problem? Your old, clunky mower is slowing you down. It's time for a replacement.
You know that when it comes to lawn maintenance, having the right equipment makes a difference. Between your existing lawn care tools like a blower and a string trimmer chainsaw, you have confidence in the STIHL brand. When you're ready to add a high-quality zero-turn mower to that list, the STIHL RZ series is well worth considering.
This game-changing machine offers unparalleled maneuverability and speed without sacrificing power or performance. Best of all, it offers several advantages over its competitors.
Those are what we're going to break down for you today.
Why buy the STIHL RZ zero-turn mower compared to its competitors?
Comfort, speed, and consistency. Those are some of the greatest advantages that come from using STIHL RZ zero-turn mowers.
Comfort
There's nothing worse than sacrificing comfort for a great-looking lawn. With STIHL, that's not a concern. Offering multi-patented suspension, these mowers also offer adjustable seats, ergonomic controls, and a smooth ride, all of which make mowing a more comfortable experience.
Speed
But comfort isn't the only thing that sets the STIHL zero turn mower apart from the competition. These mowers also move quickly, allowing you to do the job faster. They can also turn quickly and are incredibly maneuverable, meaning you can navigate around obstacles and tight corners with ease.
Consistency
Of course, speed and maneuverability are nothing if your mower doesn't give you a consistent, smooth cut. But again, the STIHL zero turn mower doesn't disappoint. Its advanced cutting system ensures that every blade of grass is cut cleanly and evenly, leaving you with a perfectly manicured lawn.
Best of all, it's built to last, offering a durable frame that will stand up to the wear and tear of regular use.
What are the primary differences among the different series of the STIHL zero-turn mower?
With several series to choose from, you might be wondering how exactly to decide which one is right for you. Here are some of the primary differences between different series of STIHL zero-turn mowers. In addition to everything we share below, there's the added bonus of moving up in horsepower as you move up in the series.
100 series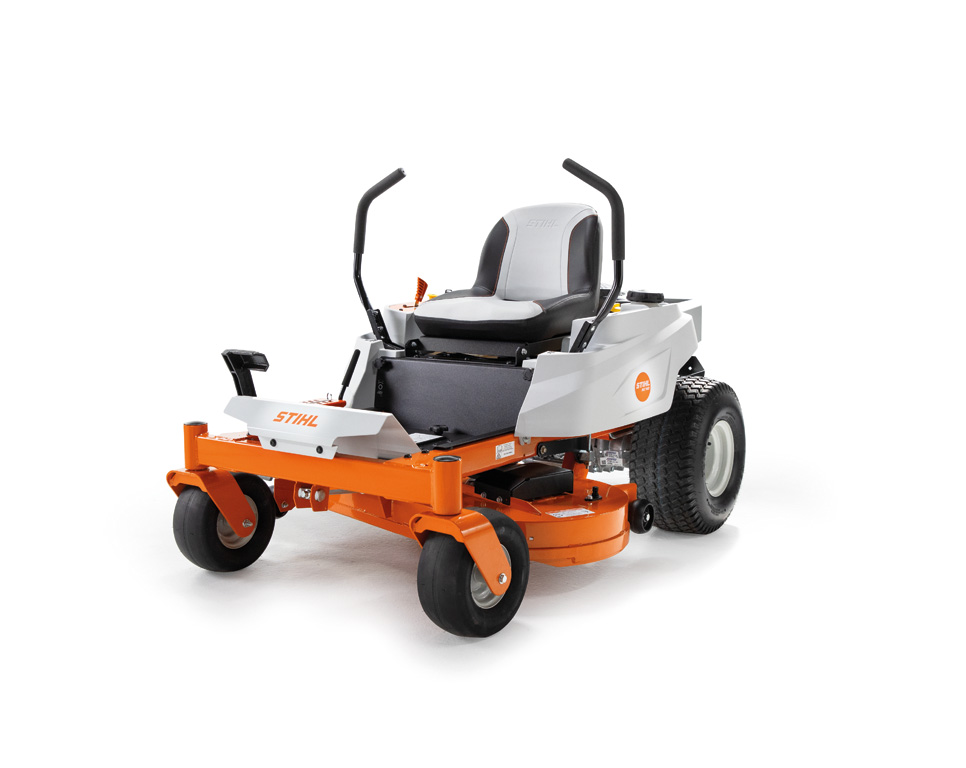 Homeowners looking for a reliable, powerful machine can find what they need in 100 series zero-turn mowers. Offering multiple models, these machines offer several benefits, including a solid frame and rear shock absorbers, which are adjustable. Additionally, the RZ 152 offers four-wheel suspension.
The 100 series a great fit for residential lawns. They come equipped with a Briggs & Stratton engine with Ready Start technology.
200 series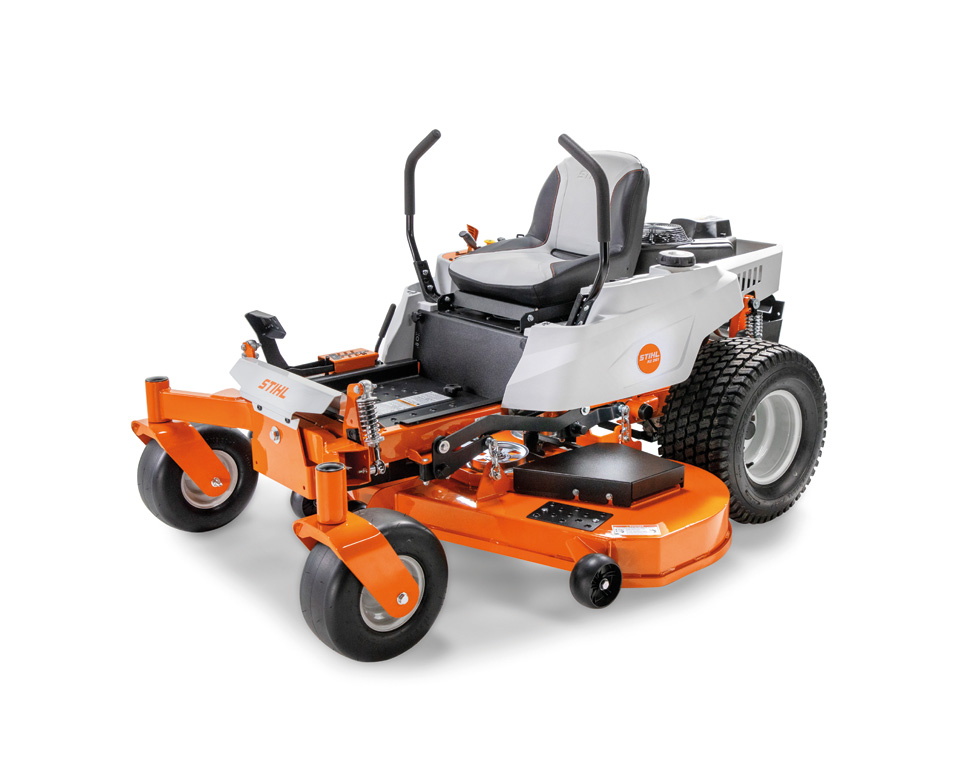 Once you get into the 200 series or higher, even more benefits exist. They're geared toward large residential lawns or farm and ranch properties. The 200 series zero-turn mowers offer everything the 100 series does, plus additional bells and whistles.
500 series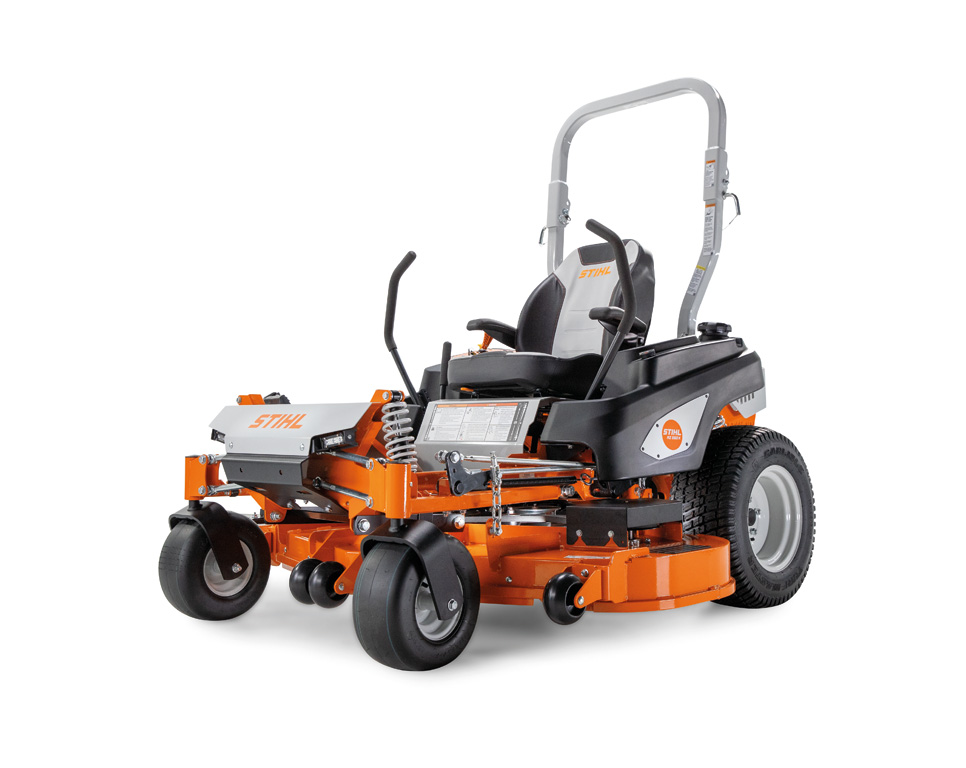 Moving into the 500 series, you can choose from a 52" or 60" mowing deck, making them a great choice for land such as farms. Featuring more cushion, these zero-turn mowers also make for a more comfortable ride for those longer mowing days. At this level, mowers contain independent front suspension.
They also can move at speeds of up to 10 MPH when in forward motion. As an added bonus, there are also armrests on these models to ensure utmost comfort while operating controls.
700 series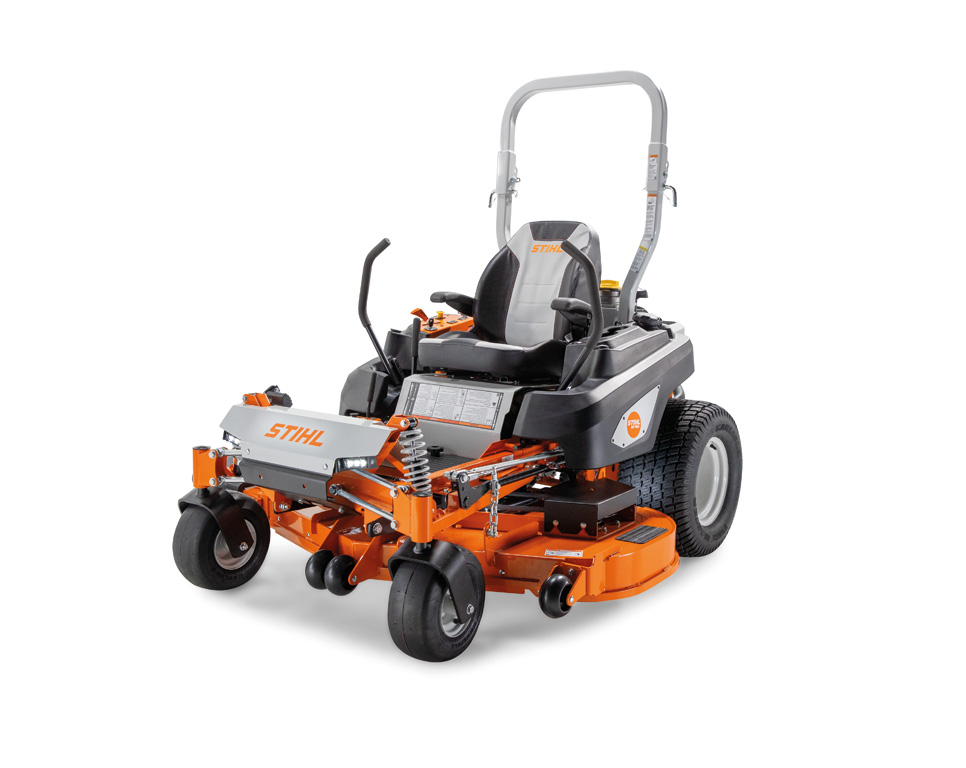 Enjoy everything above plus advanced four-wheel suspension with the 700 series along with wide decks. There is also a choke and throttle on some of these machines that don't have an attached cable which could break.
900 series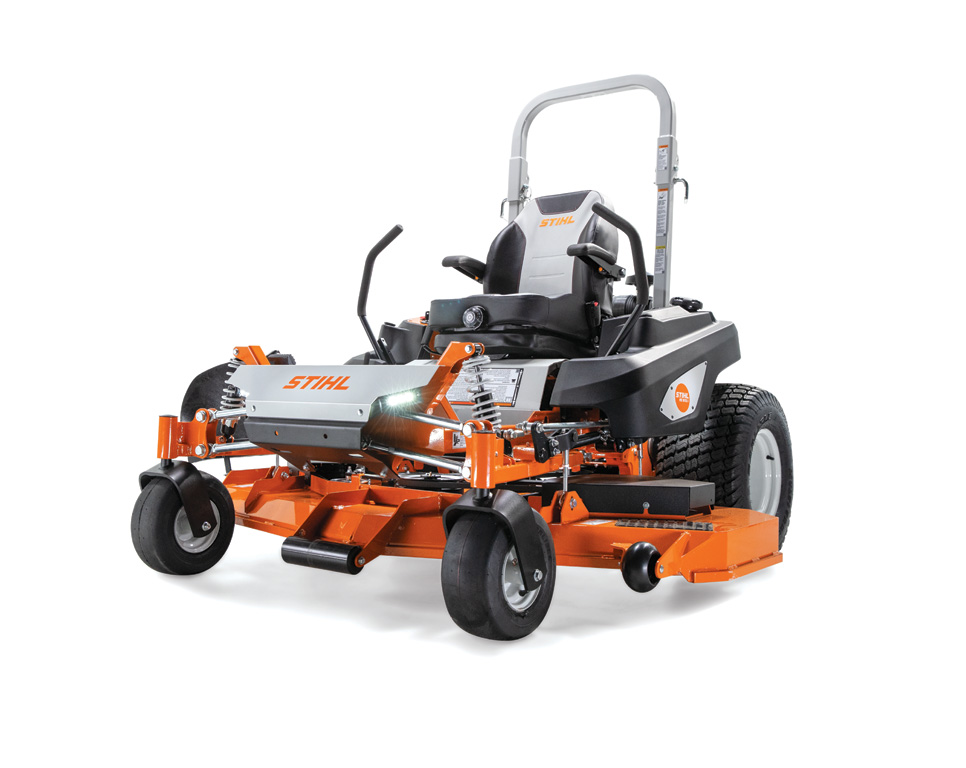 It doesn't get better than this! Wider decks and high-performance engines make these an ideal series to choose from.
You also have the option for a Vanguard or Kawasaki engine, which is more fuel efficient. In some cases, the engine also allows air to move more efficiently through these machines, cleaning it. You also will have lower service intervals with this series because with the oil guard, your oil stays cooler.
Which STIHL series is the best choice for your needs?
The answer is: It depends! A residential homeowner will need something different than a person mowing a small acreage.
Average Joes and Janes
For homeowners and individuals caring for about one to two acres, a 100 or 200 series is recommended. The 100 series features a fabricated deck with pieces that have been double-welded for strength and longer life. They're also simple to turn on, offer decent speed, and have a Briggs and Stratton engine.
Comfort Riders
Meanwhile, the 500 series is for someone who needs all of that plus requires a bit of comfort. That is, you'd prefer a little extra plush to being shaken like a salt shaker. The full four-wheel suspension and four-point coil over spring suspension make a real difference in your overall ride.
Land (and Lawn) Lovers
Larger acreage owners and professionals will benefit from the 500+ series. A faster speed means it will get through more extensive work faster but with beautiful precision. Also, the higher you go, the more comfort and features are offered, including:
Smoother riding
Armrests/Control arms
Engine options (Briggs and Stratton engine or Kawasaki)
Next-Level Land (and Lawn) Lovers
For those working with twenty acres or more, the 700 or 900 series is ideal. Starting at the 700 level, the mower is also particularly effective on side hills. The 700 or 900 series also offers a fuel-injected option which has the advantage of more power on demand. Able to cut through taller grasses, its 10-gauge steel provides profound deck reinforcement making it more difficult to bend.
What lawn results can homeowners and professionals expect from STIHL's new zero-turn mower?
Mowers for Residential Homeowners
For homeowners, the STIHL zero-turn mower offers a smoother cut on both flat and hilly terrain thanks to its suspension system.
This results in a faster mowing process as the mower isn't slowed down by the uneven terrain. Additionally, homeowners won't feel as fatigued after using the mower. And, of course, the suspension system provided by STIHL is top-notch.
Mowers for Commercial Use
Professionals can also benefit from the STIHL zero-turn mower's suspension system. It ensures a smooth cut and nice stripes. The smoother ride also allows them to get from job to job and get the job done quicker, thanks to the increased mowing speed.
Additionally, the machine mows straighter due to the suspension system, resulting in longer life of the frame.That said, these machines do require more maintenance due to the number of parts including spindles, axles, suspension, and frame parts that can wear out. The smoothness of the ride also prevents the mower from getting beat up, providing professionals with more bang for their buck.
Property types that would benefit from STIHL's new zero-turn mower?
Wondering if your property type is a good fit for STIHL? Below are some of the lawn types we feel would benefit the most from this equipment.
Rough, Hilly Terrain: This type of property is the top-selling point for STIHL's zero-turn mower. The suspension system on this product makes it ideal for mowing uneven terrain, ensuring a smooth ride while the deck follows the wheels. This feature makes it easier to navigate hills and bumps, which can be challenging with other types of mowers.
Heavily Landscaped or Treed: If you have a lot of landscaping or trees on your property, a STIHL zero-turn mower can be a great choice. The maneuverability of the mower allows it to navigate around obstacles quickly and easily, ensuring that every corner of your lawn is evenly mowed. This type of mower can also cut grass closely around trees and other landscaping features, giving your lawn a clean, professional look.
Properties with a Lot of Land: If you have a large property, a zero-turn mower can save you a lot of time and effort. The speed and maneuverability of the mower make it easy to cover a lot of ground quickly, reducing the amount of time you need to spend mowing. With a zero-turn mower, wherever you look, it goes, allowing for maximum coverage with minimal effort.
Ty's Outdoor Power is the only dealer in NE that offers STIHL's RZ zero-turn mower. When you're ready to purchase this top-of-the-line mower from a trusted dealer that is known for its excellent service and expertise, stop by our Omaha, Lincoln, or Gretna location to learn more.Don't forget to ask about STIHL's warranty.