Ventrac is the premier innovator of grounds maintenance equipment. Ventrac manufactures compact, articulating, all-wheel drive tractors and professional grade attachments engineered for a variety of grounds maintenance tasks.  Ventrac is the #1 tractor in the US for operating on properties with steep slopes up to 30°.  Ventrac is also the preferred sidewalk snow removal tractor for municipalities and universities throughout the US.
DON'T MISS THIS SPECIAL OFFER FROM VENTRAC!
For a limited time, Ventrac is offering special financing deals including NO PAY unitl 2020 and 0% for 24 months!  Click the button to learn more!
The new Ventrac SSV makes it easy and efficient to manage snow and ice on sidewalks. The SSV is a dedicated Sidewalk Snow Vehicle with an industry-first 36″ width in order to allow access to the tightest areas of any property. The SSV allows more reduction of hand labor and walk-behind equipment than ever before. It's also designed with a full arsenal of commercial quality snow removal attachments and de-icing options that are engineered to provide a system that can handle any winter storm. The wait for a proper sidewalk snow machine is finally over.
Snow Plow
Ventrac SSV ND Snow Plow Blades are versatile, labor-saving attachments designed for any number of jobs. Whether plowing snow, moving material, or cleaning an area, the Ventrac ND series blades are up to the task.
Sidewalk Snow Broom
The NJ380 Power Broom for the Ventrac SSV, features a working width of 38-inches and an angled width of 35-inches, making it a perfect solution for cleaning snow and debris from sidewalks and walkways.
Snow Blower
The Ventrac Snow Blower is built for commercial snow clearing for sidewalks, driveways, and other areas.  A two stage snow blower with standard features like a reversible high carbon hardened steel cutting edge.
See the Ventrac SSV and its attachments in Action!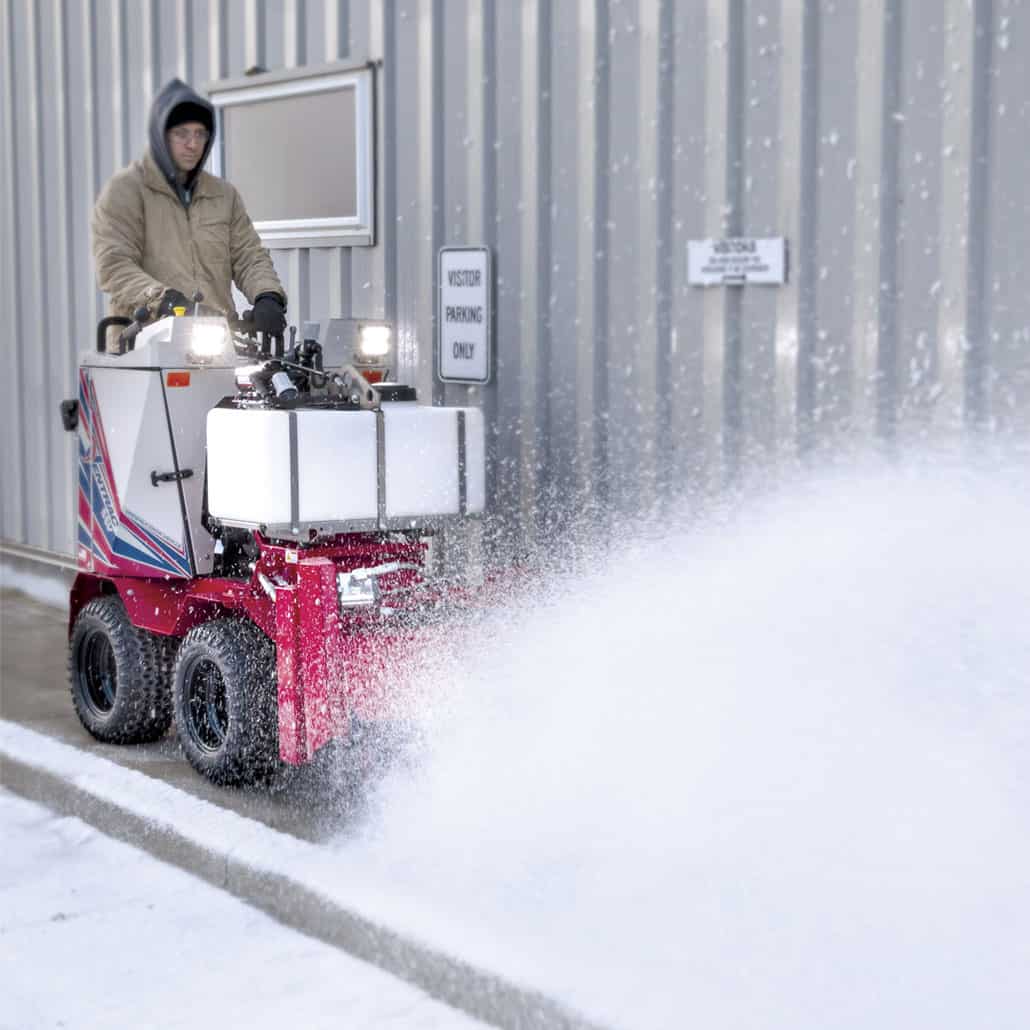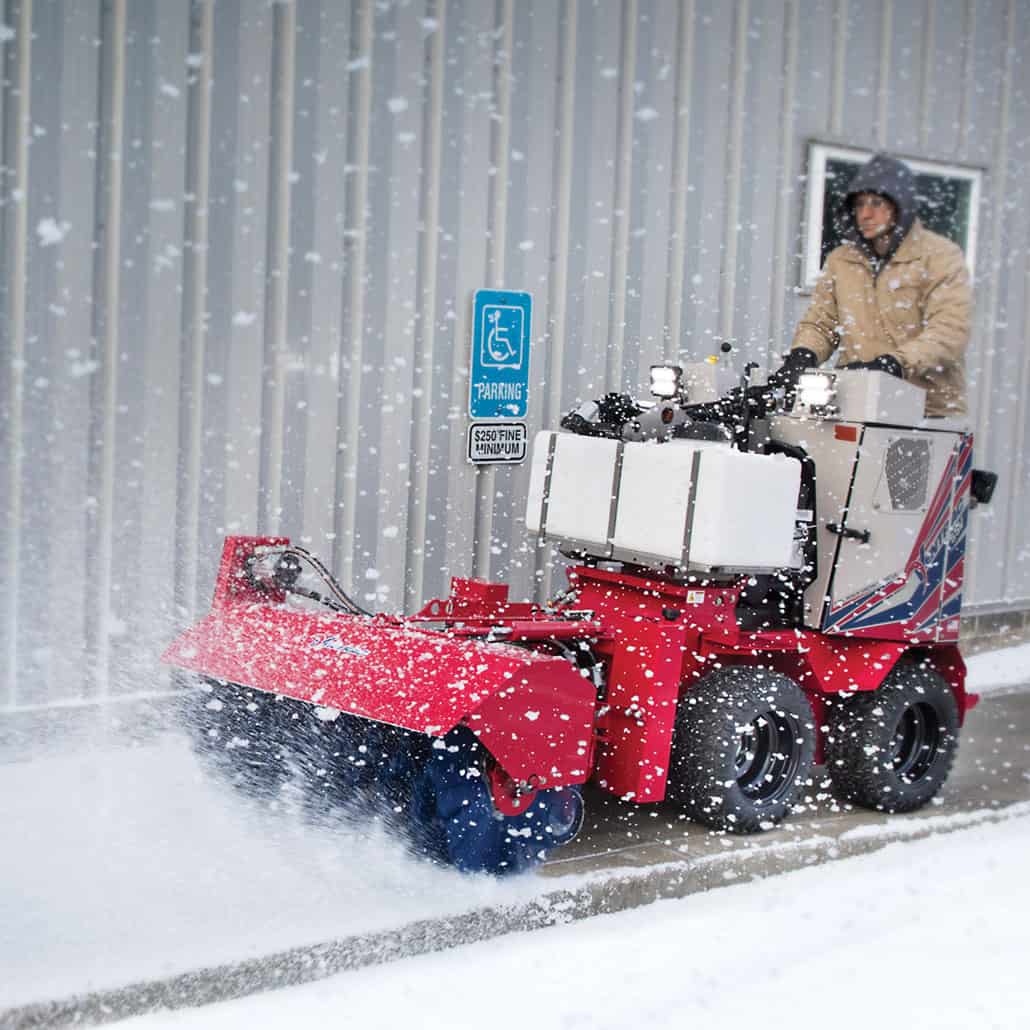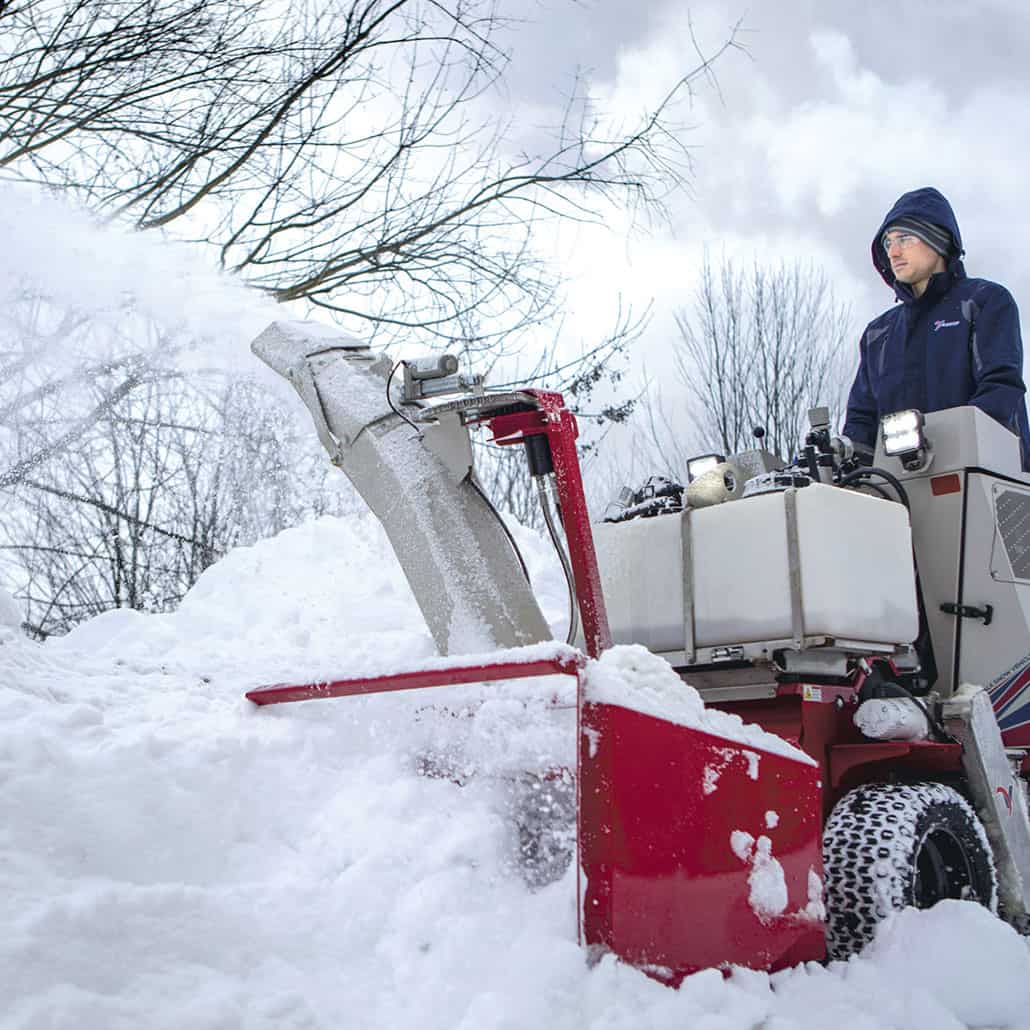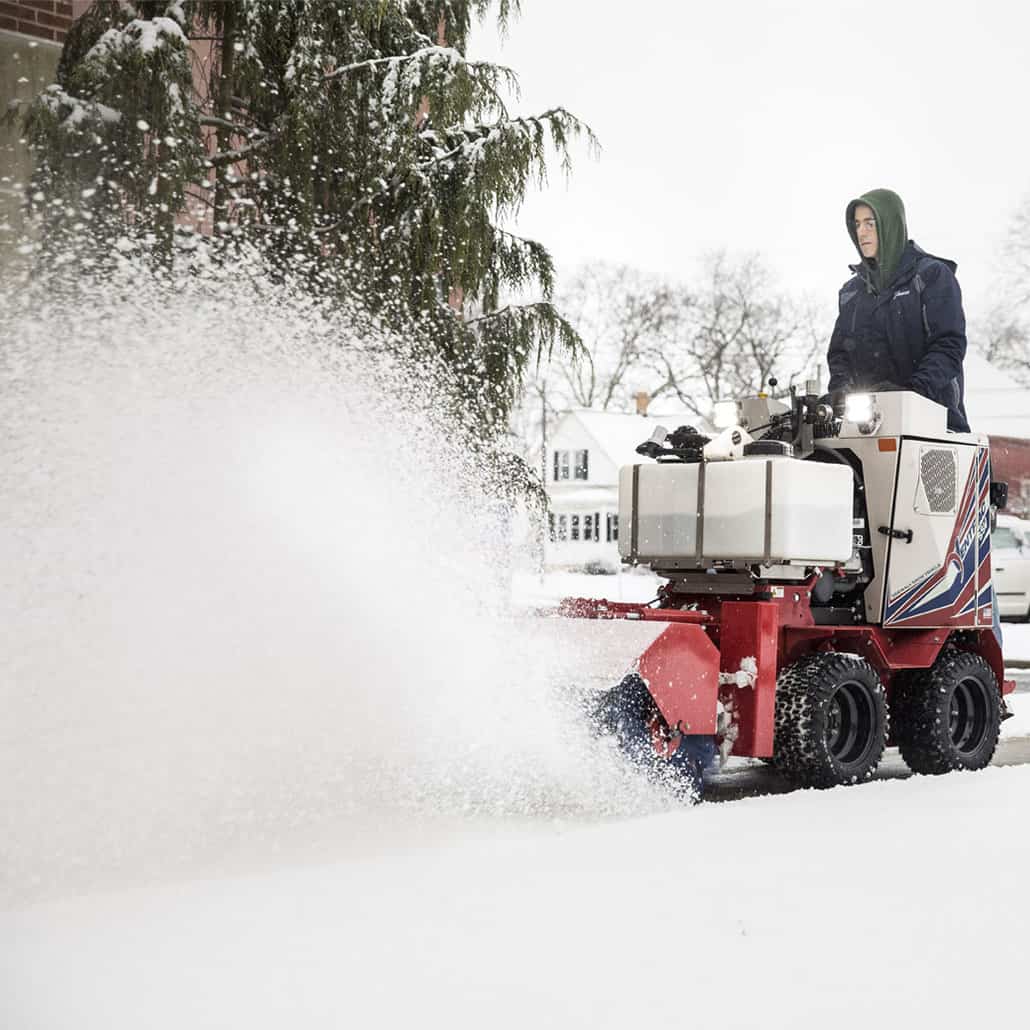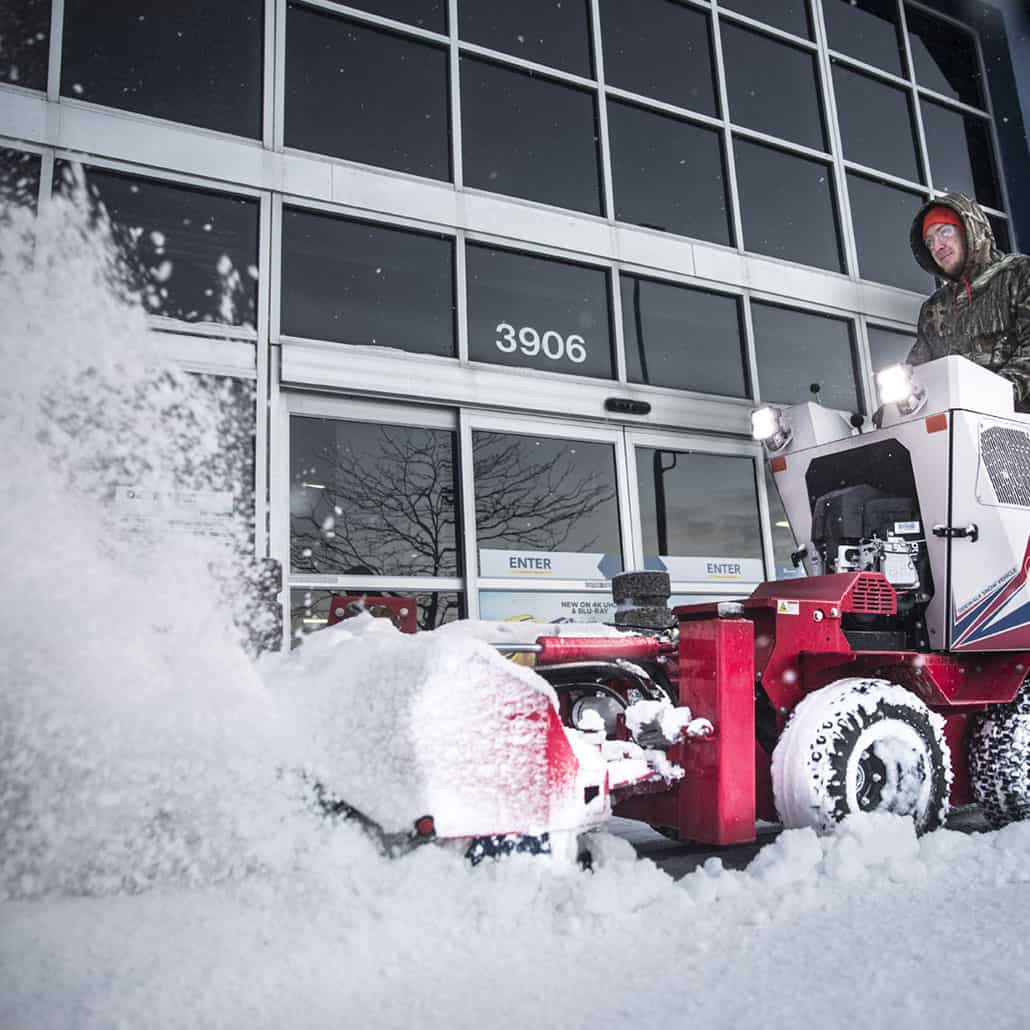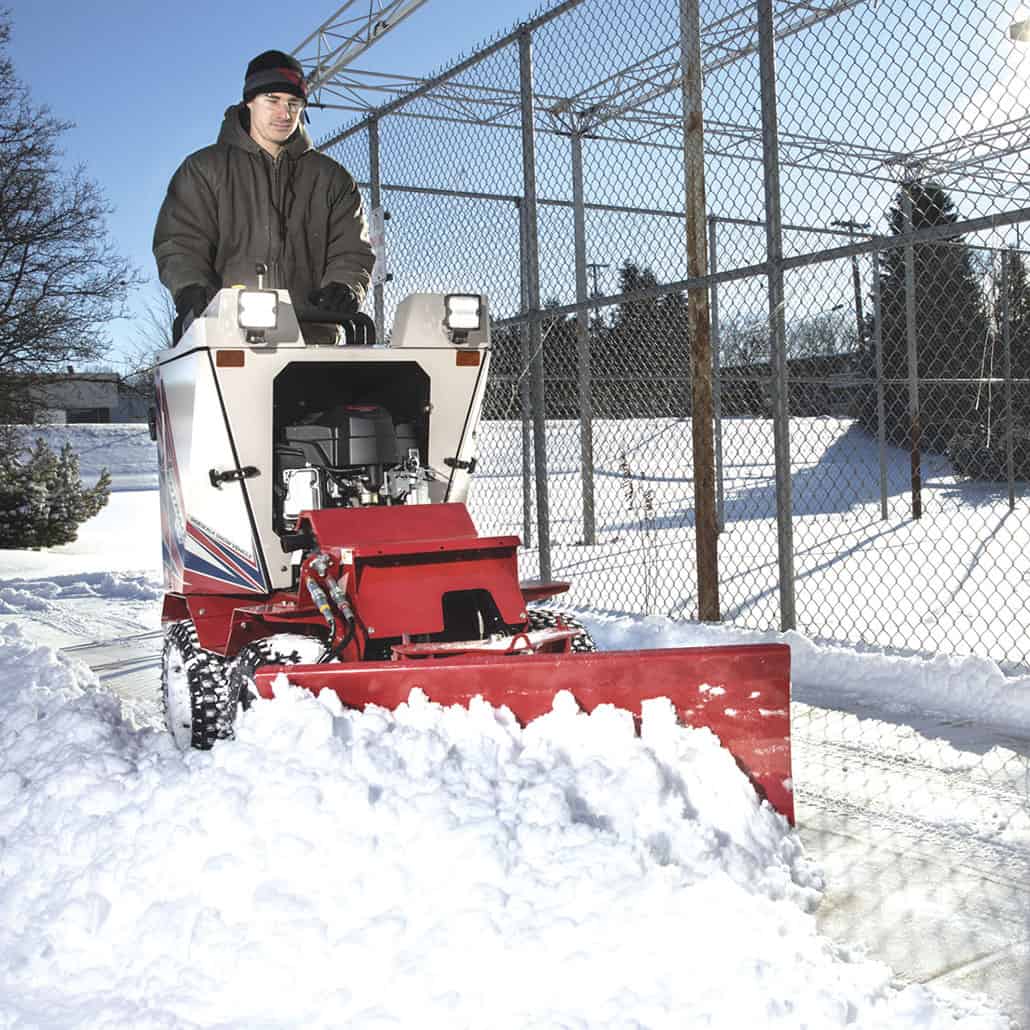 It only takes one test drive on this incredibly agile, yet power-packed tractor and you'll know that the Ventrac 4500 is in a class of its own. An innovative design combines all-wheel drive, an articulating frame, and powerful engines to give you unmatched stability and control to get work done. Most importantly, the Ventrac 4500 is designed to be the most fun you'll ever have on a tractor.
The Ventrac family of MS/MT/MU finish mower decks are designed to cut grass quickly, efficiently, and with endless precision. The result is a beautifully striped lawn, time after time. Professionals and hobbyists alike enjoy the many features that these decks provide. Standard quick, single-lever height adjustments, full length rear rollers, high strength steel deck construction, and industrial quality components combine with the optional hydraulic flip-up and mulch kits to result in exactly what customers have come to expect from Ventrac – the best mower decks money can buy.
The HQ680 Tough Cut Mower is designed for mowing high grass, thick weeds, and heavy brush. A large baffled front opening helps direct materials into the deck and helps hinder debris from escaping. Three heavy-duty blades counter rotate to cut and deposit waste evenly without windrowing. Capable of tackling saplings and large thorn bushes, the Tough Cut makes short work out of overgrown thickets.
The KP540 Power Rake is designed for leveling rough ground and new yard installations, as well as removing surface rocks and debris. Its compact design allows the operator to work in tight quarters including around corners and edges. Seventy-two replaceable carbide tips pulverize and refine the soil. Materials can be moved forward or to either side by hydraulically angling the drum left or right. The drum can also be reversed to allow back-dragging of soils. A rotating handle adjusts the height by up to 3 inches in ⅛ increments.
When turf compaction caused by foot or vehicle traffic, sporting events or other stresses is a problem, periodic aeration is necessary to keep the turf healthy. The AERA-vator is designed to stir and loosen the soil beneath the sod without destroying the turf. The EA600 creates a core hole without bringing a core plug to the surface, leaving the turf ready for use immediately after treatment. Eight holes are created each foot (86 holes per square meter) and hole size is regulated by drive speed– the slower the drive speed, the larger the hole. The AERA-vator works best in dry un-irrigated ground leaving a core hole while fracturing the sub soil.
Ventrac Power Buckets are a must for any Ventrac owner. The scoops are great for transporting material such as soil, sand, gravel, mulch, debris, snow, and much more. Used for landscaping, excavation, back-filling, leveling, digging and grading, the Power Buckets are an indispensable attachment from construction sites to your own backyard, allowing you to say goodbye to your old wheelbarrow. The Power Bucket is designed to sit upright after detachment, with the lift arms in the proper position for direct reconnect when the bucket is used again.
The 52″ wide Ventrac KX523 Snow Blower is built for commercial snow clearing operations of sidewalks, driveways, and other areas. A two stage snow blower, the KX523 features a 16″ diameter solid auger for best snow transfer, a large 20″ diameter fan, and the ability to move 4500 pounds of snow per minute at distances up to 40 feet. The hydraulically activated discharge chute can rotate 220 degrees, all from the convenience of Ventrac's exclusive S.D.L.A. control system. Chute deflection is manually adjustable.
The HB580 Power Broom is designed for sweeping and removal of material such as snow, leaves, dirt, light gravel, and even thatch. A corner-less frame design permits sweeping against curbs and allows for the cleaning of corners. The HB580 Broom can be hydraulically angled left or right and lifted up or down all with the S.D.L.A. Controls. An optional electric actuator allows the operator to adjust the speed and direction of the broom rotation, maximizing effectiveness and allowing the operator to reverse broom rotation, all from the seat of the tractor. The broom stands alone when detached and can be easily reattached. A self-leveling feature keeps the broom horizontal at all times, and the nylon bristle broom cores can be changed in just a few minutes.
The new Ventrac Boom Mower is unquestionably the easiest and most productive boom mower in its class. Designed to deliver unprecedented levels of efficiency for property managers who want to maintain difficult areas with minimal labor, the Boom Mower has the stability and reach to manage vegetation further away from the machine than other equipment. With this new attachment, mowing around water features, trimming hedges, and clearing trails has never been so easy.
The Stump Grinder makes quick work of unwanted stumps and roots. Heavy-duty carbide cutters provide extended and effective performance in spite of dirt, stones, and debris in work area. The Stump Grinder, mounted on the 4000 Series tractor, creates an agile, powerful and "turf friendly" mobile unit for lawns, golf courses, parks, and municipalities. A special convex mirror mounted to the tractor provides operator visibility to the front cutting edge. Steering wheel-controlled articulation provides side-to-side cutting action. Forward and reverse motion is controlled with the tractor's hydrostatic drive.
The KY400 Trencher is capable of trenching up to 40 inches (102 cm) in depth with a 5½ inch (14 cm) wide cut. It is designed with dual Push-N-Pull cylinders to assure positive boom control for digging, boom lift, and transport. The terminator/cup combo chain offers carbide cutting tips for excellent cutting performance in a variety soil conditions. Digging teeth bolt onto the chain for easy replacement. The KY400 attached to a VENTRAC 4000 Series tractor gives the operator the ability to maneuver into hard-to-reach locations without damaging the turf like a traditional track unit would.
VIEW OUR ENTIRE LINE OF VENTRAC TRACTORS
&

ATTACHMENTS